Hi everyone! I've recently been reading a lot more middle grade books than usual. I thought I'd share a few of my recent reads and recommendations together, and these were all wonderful, wholesome and inspiring reads for people of all ages.
Amina's Song by Hena Khan
(Releases March 2021) Thank you to Simon & Schuster/Netgalley for the e-ARC!
About the Book:
It's the last few days of her vacation in Pakistan, and Amina has loved every minute of it. The food, the shops, the time she's spent with her family—all of it holds a special place in Amina's heart. Now that the school year is starting again, she's sad to leave, but also excited to share the wonders of Pakistan with her friends back in Greendale.

After she's home, though, her friends don't seem overly interested in her trip. And when she decides to do a presentation on Pakistani hero Malala Yousafzai, her classmates focus on the worst parts of the story. How can Amina share the beauty of Pakistan when no one wants to listen?
Highlights
This was a wonderful story filled with relatable diaspora experiences of grappling with your heritage and how it affects your identity — despite being from a different cultural background myself, I could really identify with how strongly Amina was affected by her experiences in Pakistan, and how it lingered with her when she went back to America
I liked some of the small moments of challenging people's assumptions throughout the story — Zohra, Amina's cousin, explains how she'd prefer to live in Pakistan near her family and help her family there rather than live somewhere like America where they'd be discriminated against; how people in the US and the West may know little about the accomplished and inspiring people from the Global South
In the first book, Amina's Voice, Amina's friendship with Soojin and Emily go through strained moments — seing them so happy together here was a delight
I can see this being a really inspiring book for its target audience of readers, encouraging them to think beyond themselves in terms of their community. I loved the emphasis on Amina's passion for music and how she uses this to uplift and help others.
Back then, I thought about America as mine and Pakistan as hers. Now I think of them both as part of me, and I am proud of that, even if it is complicated.

Amina's Song, p275
(Please note that the above quote is from an e-ARC and may not reflect the final text)
Front Desk by Kelly Yang
About the Book: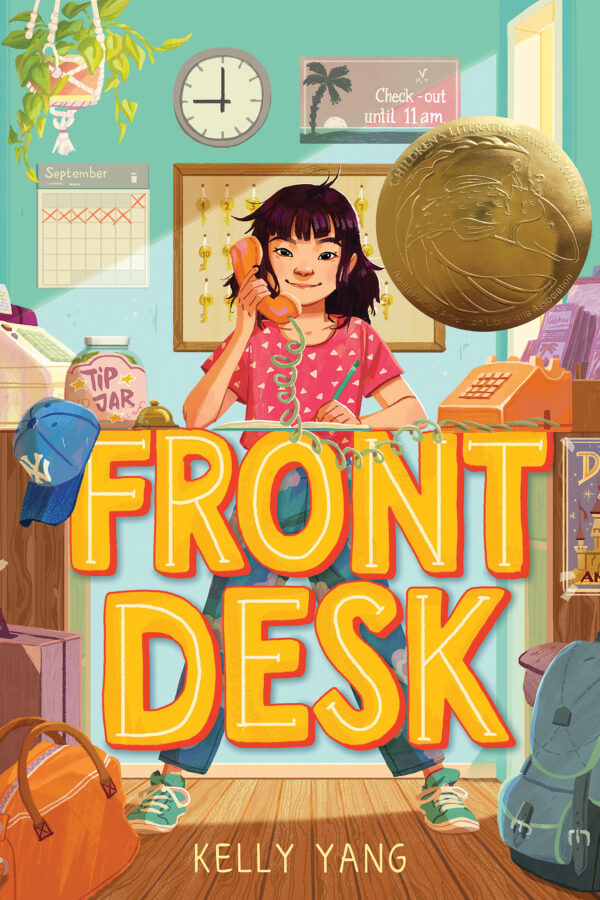 Mia Tang has a lot of secrets.

Number 1: She lives in a motel, not a big house. Every day, while her immigrant parents clean the rooms, ten-year-old Mia manages the front desk of the Calivista Motel and tends to its guests.

Number 2: Her parents hide immigrants. And if the mean motel owner, Mr. Yao, finds out they've been letting them stay in the empty rooms for free, the Tangs will be doomed.

Number 3: She wants to be a writer. But how can she when her mom thinks she should stick to math because English is not her first language?

It will take all of Mia's courage, kindness, and hard work to get through this year. Will she be able to hold on to her job, help the immigrants and guests, escape Mr. Yao, and go for her dreams?
Highlights
I adored and could really relate to this story, as someone who migrated to Australia as a child. There were some details about China and Chinese immigrant families that I appreciated seeing — Mia's mother being reluctant about her passion for English and writing because she knew she couldn't help her (unlike with maths), her cousins in China being like her siblings because of the one-child policy
Seeing Mia develop her writing skills throughout the book, and using it to help others, was so heartwarming
The ending was wonderful — it felt so well-earned with the challenges leading up to it and not going for an easy solution, yet was also inspiring with seeing the community come together
I loved the sweet friendships in this story, especially between Mia and Lupe, and Mia and Hank
---
Amal Unbound by Aisha Saeed
About the Book:
The compelling story of a girl's fight to regain her life and dreams after being forced into indentured servitude.

Life is quiet and ordinary in Amal's Pakistani village, but she had no complaints, and besides, she's busy pursuing her dream of becoming a teacher one day. Her dreams are temporarily dashed when–as the eldest daughter–she must stay home from school to take care of her siblings. Amal is upset, but she doesn't lose hope and finds ways to continue learning. Then the unimaginable happens–after an accidental run-in with the son of her village's corrupt landlord, Amal must work as his family's servant to pay off her own family's debt.

Life at the opulent Khan estate is full of heartbreak and struggle for Amal–especially when she inadvertently makes an enemy of a girl named Nabila. Most troubling, though, is Amal's growing awareness of the Khans' nefarious dealings. When it becomes clear just how far they will go to protect their interests, Amal realizes she will have to find a way to work with others if they are ever to exact change in a cruel status quo, and if Amal is ever to achieve her dreams
Highlights
Amal was truly an inspiring character with her courage and aspirations, and wonderfully developed with the range of emotional responses she had to her heartbreaking circumstances
I loved the dynamics within her family, with the joy and close relationship she has with her younger siblings, but also the burdens on Amal as the oldest daughter and the sense of unfairness this brings up
The story touched on some tough themes — sexism and indentured servitude — while being age-appropriate for a middle grade audience and ultimately hopeful. That's such a difficult thing to accomplish and Aisha Saeed has all my respect for doing so (I'm aware she said during the 88 Cups of Tea podcast that the book took 7 years to write)
A Thousand Questions by Saadia Faruqi
About the Book:
Set against the backdrop of Karachi, Pakistan, Saadia Faruqi's tender and honest middle grade novel tells the story of two girls navigating a summer of change and family upheaval with kind hearts, big dreams, and all the right questions.

Mimi is not thrilled to be spending her summer in Karachi, Pakistan, with grandparents she's never met. Secretly, she wishes to find her long-absent father, and plans to write to him in her beautiful new journal.

The cook's daughter, Sakina, still hasn't told her parents that she'll be accepted to school only if she can improve her English test score—but then, how could her family possibly afford to lose the money she earns working with her Abba in a rich family's kitchen?

Although the girls seem totally incompatible at first, as the summer goes on, Sakina and Mimi realize that they have plenty in common—and that they each need the other to get what they want most.
Highlights
I absolutely adore friendship stories. The unlikely friendship between Mimi and Sakina, who are from very different worlds but come to understand each other, the way they keep supporting and caring about one another — was absolutely wonderful. The story was so empathetic in terms of diaspora identity and class privilege.
There was a lot packed into the plot whilst feeling organic — Sakina's desire to improve her English and get an education in spite of being a servant, the girls' respective family struggles, and the background of an election in Pakistan
Following on from the above, the family issues each girl faces (Sakina needing help for her father's health issues, Mimi being estranged from her father and wanting to reconnect with him despite her mother's resistance) were developed in a wonderful way
---
Overall, I highly recommend picking all of these books up! Some of the commonalities between these books — reflecting middle grade as a whole — are how empathetic they were, their emphasis on friendships, and their powerful and immersive voices (all of the above books were in first person). They were all willing to depict harder themes about how difficult the real world is, but in gentle ways.
How many of the books above have you read? What other middle grade books do you recommend?